Transportation Services

Wheelchair Transportation

Doctor's Appointments

Stretcher Transportation

Elderly Transportation

Nursing Home Transportation

Ambulatory Transportation

Hospice Transportation

Patient Transportation

Long Term Treatments

Bariatric Transportation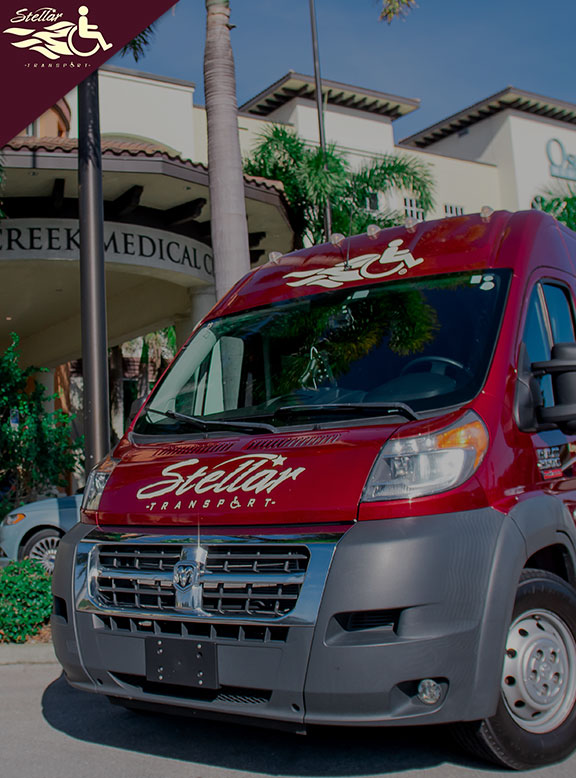 Stellar Lake and Sumter Counties
---
Stellar is the number one name for local non-emergency medical transportation services in Florida. Now opening in Lake and Sumter Counties providing transportation services for the handicapped, the elderly and stretcher patients.
We offer local and long-distance non-emergency medical transportation to and from medical and non-medical facilities. Providing safe, clean, and most importantly on time transportation. 
We take pride in our professionalism, and it shows in how we treat our customers and in everything we do. Our only goal is to get you to your destination in the safest and most comfortable manner possible, while paying close attention to your needs as an individual. We don't see you as an account. You are someone's grandma, someone's mother, someone's father. 
We offer door to door service. That means your driver will come into your house or medical facility, take you to our vehicle and get you comfortable. Once you arrive at your destination, we will also bring you inside and check you in. We will also guarantee to return within 45 minutes of your call to be picked up, we don't want to keep you waiting. 
Our new vehicles are specially designed for persons with impairments. The vehicles are disinfected after every patient is transported and are cleaned daily.  Our drivers arrive dressed professionally in slacks, dress shoes and a collared shirt to project respect and dignity with which we treat our clients. 
This is Non-Emergency Medical Transportation in Lake and Sumter Counties at its finest- that's Stellar Transportation.
Fill Out Our Form
---
If you have a question for us feel free to fill out the form below. If you are looking to book a medical transportation trip please CLICK HERE.
---
---
Our Contact Information
---
Here at Stellar Transport of Jacksonville we want to make it as easy as possible for you to contact us. Feel free to fill out our online form, give us a call, or send us an email. Either way you decide, you will be met by one of our friendly staff members.
(352) 995-9595

Call us today, we would love to hear from you.

info.lakecounty@stellar-transport.com

One of our employees will get back to you within 24 hours.

Serving Lake and Sumter Counties

We provide Non-Emergency Medical Transportation to Lake County and surrounding areas. Contact us today!